Do you have a GREAT product, service, or idea... but can't sell it?
Sales is more than just having a great product.
Sales is about getting someone else to take action.
Have you ever needed to mow your lawn and you think "I'll get to it next week"? Maybe you had the beginning of a flu and thought "I'll go to the doctor's if it gets worse" or even "I'll start saving for retirement next year"...
Well, the issue isn't what you need to do, it's the fact that you're putting it off - and you KNOW if you started today, if you took action right now, your life would be much better, easier, and enjoyable tomorrow, next week, and years in the future.
You just have to take action, and as a salesperson, your main job is to get someone to take a beneficial action that they're putting off.
You can have a great product, outstanding service, or world-changing idea - but without the right SALES skills... they won't help anyone.
Do you feel "scammy" or "sleazy" selling?
Have you ever bought something and felt scammed afterwards or immediately had buyer's remorse?
I was at a mall a couple days ago, and I walked into this supplement store, because I was out of my protein powder I usually drink after lifting.
Anyways, as soon as I walk in and start looking around, this lady, who's native language obviously wasn't English started trying to sell me some other product.
She goes on and on about how "if I sign up today, I'll get 80% off" and get some preworkout and other crazy supplements for free with my order. Anyways, after around 10 minutes of standing around, I finally give in and just agree and we walk over to the cash register, she starts ringing the products up and the total comes out to over $200.
Are you kidding me!? $200 and I came in for just protein powder?
I wasn't even sure if what she was selling me was legal, it was like in this pre-packaged Ziplock bag.
That's just one time I felt scammed, don't even get me started on the time I bought a used car and literally after I drove it home… the oil had completely leaked out of it. Not only that, both the back tires were flat the next morning. Everything was perfect just 12 hours before.
Anyways, that's a story for another video, but haven't you ever felt scammed buying something? Lots of people have!
This is why it's important to be very careful selling things as a salesperson because people are weary nowadays.
The best way to make a lot of money selling something is to sell things you truly believe will help people, plus the personal satisfaction and social boost feel great!
Do you want to make a ton of money helping people?
So problem number 1 was that you had a great product, service, or idea, but don't have the skillset to sell it.
Problem number 2 is that you feel like salespeople are scammy and because of this… you don't feel comfortable selling things
Problem number 3… is that you can't find a way to make money, accomplish your goals, achieve your dreams by actually doing things that help people.
Maybe you think money is associated with greed, or that it's ultimately destructive, but let me tell you - you can help a lot of people with money, and you can help a lot of people selling them things that they need and getting them to take the action that they're procrastinating on.
My friend used to have a job in a gym where he would get paid extra on commissions, which meant the more he sold, the more he would earn. Now, the product he was selling was great, the gym had an amazing community, and he had the skills to sell, but after he sold $1000 worth of commission in one month, it was like a switch went off in his head and he would sabotage all future sales.
He didn't know why he couldn't sell more that month, but I did. I know exactly why you aren't earning more money this month too, why you won't next month, and why you won't next year…
The secret is… it has to do with your beliefs. You treat sales like a job, not something that's fun to do and helps the people around you.
People have problems, and salespeople have solutions.
IF...
You can't sell your product, service, or idea AND
You feel weird selling AND
You want to make money helping people
THEN...
You're just like me.
I used to feel all of these, until I set a goal of solving them!
With my entrepreneurial focus and craving for a solution to these 3 main problems, I set out to take and consume every sales course I could find.
I also went ahead and read 8 psychology textbooks.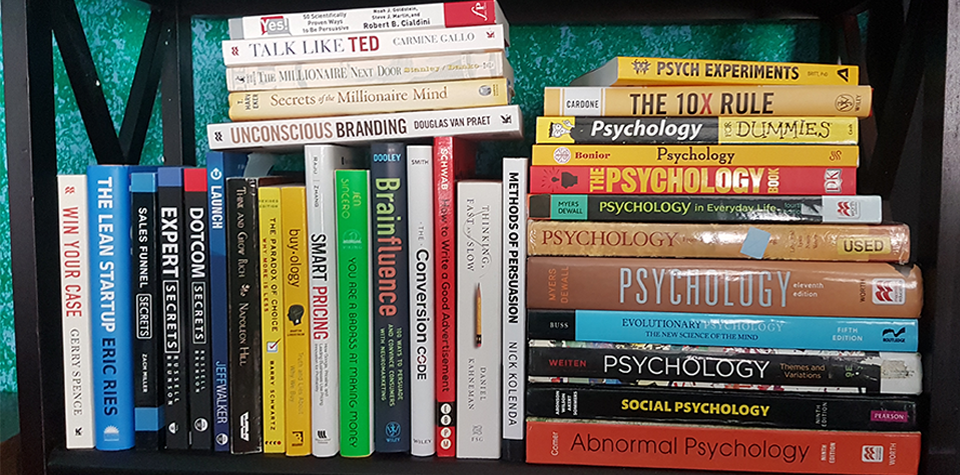 There's a ton of stuff you can learn by doing that, but I learned especially how people make decisions and what influences buyers.
Yet that still wasn't enough for me... I was hungry for more... I wanted to really master both the art AND science of sales!

So the last thing I did... was buy even more books on sales, closing, reading body language, everything related to sales written by sales experts!
I was dead set on learning everything there is about sales and the selling process. I've learned so much of what to do... but also what NOT to do (which is equally as important).
I have invested over $30,000 in the past couple of years to cut through all the clutter and understand what sales is REALLY all about.
Then, I started to implement it. Because ideas are just ideas, but action is where the honey is, right? You'd have no idea at the success I had, and here's some proof:

In fact, what I learned didn't only help me… I taught other people what I learned through online coaching and here's what they have to say: